| | |
| --- | --- |
| | ­ |
| ­ | ­ |

­
­
Dear viewer,
We have a mediated understanding of what war is. We read about it and know that, in times of war, empty words of patriotism and glory are exploited to veil senseless massacre, profiteering, and the cries of the wounded and bereaved. From our phones, we watch how war reconfigures our worlds. But what happens when war is compressed and transformed from blood and bullets into pixels, from mangled buildings and broken hopes into static images on forever lit-up screens? War images reflect real-time and haunting on-the-ground POVs of ruined landscapes and desolate battlefields. At the same time, the devastating forces of war tell parallel stories. War images record both anxiety and resilience, moments of tranquillity and turmoil, intimacy, folly, humiliation, bravery, and strength.
The aim of this first edition of the europeanimages photographic newsletter – a collaboration between n-ost (DE), Pismo (PL), Athens Live (GR), and Kajet Journal (RO) – is shed some light on how images of war explain the wretched reality around us.
­
Petrica, Laura (Kajet), Karolina, Magdalena (Pismo), Ramin, Pia and Stefan (n-ost) – this issue's editorial team


In Gmail the mail is often trimmed: Please click the link at the end of the mail to see the whole newsletter
­
­
­
­

Top title image: International arms industry trade fair Eurosatory, 2018.The fair is held every two years in Paris and with 60,000 visitors it is one of the biggest worldwide. Nikita Teryoshin (Berlin) for his series "Nothing Personal – The Back Office of War" (2016-2018)



Bottom title image: Apartment building destroyed after a rocket attack by Russia in the Pozniaky district near Kyiv on the second day of the war against Ukraine. Maxim Dondyuk for his reporting on the war for various media. (February 25, 2022)

­
­
­
Seeing
WAR

Single Images by Photographers
From all over Europe


­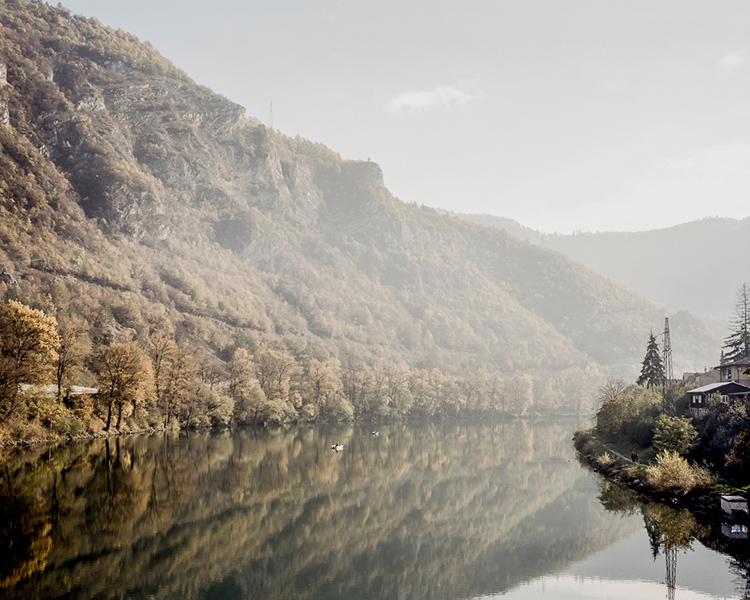 ­
The bodies of those murdered during the ethnic cleansing of Višegrad by Serbian forces during the Bosnian War of 1992-1995 were thrown into the River Drina. The river carried the bodies further downstream, and during maintenance work on the nearby Perućac dam, skeletal remains of more than 300 people were found. Pawel Starzec (Warsaw) for his series "Makeshift" on war crimes during the Bosnian war and their remembrance (2013 – 2018).
­
A senior staff physician at a Bundeswehr hospital with her husband. She joined the German military at the age of 18 and was deployed first in 2008 in Kosovo, and later in Kunduz, Afghanistan. In 2010 she was diagnosed with post-traumatic stress disorder (PTSD). Jacob Ganslmaier (Berlin/Hague) for his series "Trigger", which deals with PTSD caused by foreign military missions (2014 – 2015).
­
­
A boy in a military camp in Mrzeżyno on the Baltic coast distributes weapons during an exercise simulating the military overcoming terrorists who have occupied a building. Natalia Kepesz for her series "Niewybuch" on children and young people in military exercises in Poland (August 8, 2020).
­
­
Serhii, father of teenager Iliya, cries on his son's lifeless body lying on a stretcher at a maternity hospital converted into a medical ward in Mariupol. Evgeniy Maloletka for his reporting from the besieged city of Mariupol for AP Photo. He was one of the last professional photo reporters in the city until March 11, when Ukrainian soldiers took them out in order to avoid that they are being captured by the Russians (March 2, 2022).
­
­
A Soviet World War II memorial in Clocușna, a village in the north of Moldova, situated directly on the border to Ukraine. Ramin Mazur for the series "Memory of War", which explores the relations of memory to past human-made disasters through WWII memorials (2019).
­
­
The Ukrainian soldier, named "Varg", crossed out in this printed image, was killed in the war in eastern Ukraine. The photo was taken on July 22, 2014 near Artemovsk, Donetsk region. Alexander Vasukovich (Minsk) for his project "Commemorative Photo", which arose during a reportage about Ukrainian soldiers. He later travelled to Kyiv and tried to investigate their fates. He marked those killed with a red cross (2014).
­
­
Wanda Traczyk-Stawska was born in 1927. At the age of 17, under the pseudonym "Paczek", she fought in the Warsaw Uprising against the Germans in 1944. After the defeat of the Polish side, she was taken prisoner by the Germans. Rafał Siderski (Warsaw) for Polish magazine "Wprost" (June 6, 2018).
­
­
Exploring
WAR

A Closer Look at a
Photographer's Series
­
Oksana Parafeniuk, a photographer from Kyiv, stayed for a week in Vinnytsia, before continuing to Lviv in search of safety. During this stay, she photographed how the community in Vinnytsia and in its surrounding villages prepared for war: Building shelters, stockpiling supplies, preparing safe spaces and praying. The photographer says of the conditions under which she worked: "I think it's important to understand how much more difficult it is for local photographers to work here, while we are living the war ourselves, while we might be displaced, leaving home with the bare minimum of things, or working in dangerous conditions, while our friends and relatives might have stayed in the cities under bombardment."
­
­
Local residents attend a Sunday service at the Saint Paraskeva church in Kalynivka, February 27, 2022.
­
Local residents get together to build a defensive checkpoint outside their village of Hushchyntsi, February 27, 2022.

­
Teachers at School Number 5 make traditional Ukrainian dumplings to feed soldiers, volunteers, and displaced people in Vinnytsia, March 2, 2022.
­
Volodymyr, 55, a worker at the State Agency of Automobile Roads of Ukraine, takes down a road sign pointing to the village of Pysarivka on the road to Kalynivka. Like all his colleagues, he was asked to dismantle road signs, as the enemy has almost no internet connection and does not know the terrain, February 26, 2022.
­
Children of teachers at School Number 5 play in the school basement, which serves as a bomb shelter in Vinnytsia. Around 35 people, many of them teachers and their families, are currently living inside the school for protection from shelling and airstrikes, March 1, 2022.
­
Local residents raise the Ukrainian flag at the newly built checkpoint outside Hushchyntsi, February 27, 2022.
­
­
Reflecting
WAR


An Observation on
How Images are Used


­
­
­
These are title images from the homepage of the online Russian magazine Meduza, which has been working in exile in Latvia since its foundation in 2014. The editors decided to show a new large-scale image every day of what is really happening in Ukraine, always in combination with the word война, or 'war', which the Russian government has banned in the context of the events in Ukraine.
­
­
­

­

The Russian government has forbidden the media from calling the war it started what it is: A war. Most of the remaining independent Russian outlets have been blocked since the beginning of the war. As one of the biggest, we at Meduza were among the first to be restricted, and the government used our photo stories on the first days of the war as a pretext. But we haven't moved an inch in our coverage. We show the destruction caused by Russian rockets and the devastation of cities across Ukraine. We also show those protesting the war in Russian cities. Ironically, Meduza's ability to show the truth in Russia was also harmed by Western sanctions, as we rely on donations from our Russian readers, who are now unable to contribute.


­

Evgeny Feldman, picture editor, Meduza

­
­
­

­

Commenting
WAR



Comments by Photographers
on the War in Ukraine

­

Alexander Chekmenev, Ukrainian photographer from Luhansk now living in Kyiv, in an email to european images (February 28, 2022)
"I'm not a war photographer and I'm not going to risk it. I don't have a bulletproof vest for PRESS or a helmet. In the city, saboteurs are fighting and skirmishing almost in the centre of Kyiv. This is a war, not a Maidan. I cannot see my daughter and three times a day I ask her – how are you doing? We are cut off from the bridges on the left bank. At home, on the floor in a tiny dark room, my mother's friends and daughter are hiding. I am responsible for their lives because they did not have time to leave at a safe time. The girl cried for two days and shouted "I don't want to die." I read a prayer in the morning and in the evening for us. The curfew only allows us to go out during the day to go to the store. In the evening they shoot without warning, especially moving cars. For the second day I am copying the archive of my photos to Google disk so that why I live is not lost."

­

­

Photo series in the latest issue of the NYT Magazine "Citizens of Kyiv" by Alexander Chekmenev.


Marek Berezowski, Polish photographer on his way out of Irpin on Instagram (March 10, 2022)
"The queue is moving slowly. Finally, I reach the Russian block-post. So they're really here. It is all happening. This isn't just a bad dream... Soldiers with "Gieorgijewskaja lentoczka" uniforms carefully inspect my car. First they take my cell phone. It lands on the ground, somewhere in the field. They keep looking...
A Russian soldier finds my camera, he allows me to take my lenses. "I understand, you need them for work," he says. The camera lands on the ground next to me. The soldier is shooting at the camera. The camera is shot. They let me go... so I am continuing my way towards Kyiv. I lost my camera. I get my car back after a few days.
The last 24 hours have been pretty hard."

­

­

A car with murdered Ukrainian civilians who wanted to flee on the Irpin-Stoyanka road, March 2022, by Marek Berezowski.


Denis Sinyakov, Russian photographer on Facebook (March 12, 2022)
"Darkness has swallowed my country! Olya's country [editor's note: his wife is from Ukraine] bleeds, being destroyed by mine. My family are refugees.
I have photographed refugees from other wars many times and now the war has come to me. It is absolutely impossible to comprehend this yet. My thoughts and heart are with those who left their home, with those who cannot be safe, with the wounded and killed, with broken families, and with those on whose side the Light is!"

­

­

From the series "Occupied Crimea". Picture of Islyam Jepparov, a Crimean tatar who disappeared, like so many others who openly opposed the Russian occupation.

­
­
­
­

Reading

WAR

A Short European Essay



­

­

Spoiling the cannibals' feast

­

War is about killing people and destroying their property to take away their land and freedom. There is no other kind of war. Motivations for it may vary: The people being killed might have killed others, the land now theirs might have been stolen, but the actions of war remain the same. Condemning war crimes might deter some people from committing them, but perversely, it makes acts that have not been condemned seem not criminal. But they are.
Yet war is not just taking the lives of others, but also risking one's own. It means restoring freedom, not only taking it away. Though it is always criminal, it can at the same time be exalted. Deserving of the utmost condemnation, it can yet inspire the highest praise, with nothing in between. War is the paradise of the absolutist and the damnation of the relativist.


­

"War is the paradise of the absolutist and the damnation of the relativist."


­

We live essentially in a relativistic world, in which issues of right and wrong are decided largely at the ballot box or in a court of law, through the relative strength of support that positions can muster, or the capacity of evidence to convince "beyond reasonable doubt". Our ideal is the scientific method, in which everything can be challenged, and the discovery of truer truths, is progress – and brings more well-being for all. In this world the absolutist's conviction of "here I stand and can do no other" is seen as archaic and barbaric. Yet historically our world has been made and remade by such absolutists.
War did not "come to Europe" when Russia bombed Kyiv. It was here when Russia took Crimea and Donetsk, and hit Georgia, and flattened Grozny. It was here in the bloodletting of Yugoslavia. It still continues in Syria and Yemen. It took hundreds of thousands of lives in Iraq and Afghanistan, millions in Iran, Iraq, and Congo. Among the refugees from Kyiv there are those who still remember the last time the city was bombed in World War II. It takes a willful blindness to be surprised now.
And yet this willful blindness is still our best hope for a world with less war. It is expressed by people who have forgotten how natural it feels to kill another human being, whatever the reason. People who, in the words of Polish poet Wiktor Woroszylski, "spoil the cannibals' feast". Make them as disgusted with the food as we are with its eaters, not knowing whom we ourselves will turn out to be.

Konstanty Gebert is a Polish columnist and international reporter on war and human rights. He is also an expert on Jewish history.


­
­
­

We are supporting efforts to report the truth about the war, including in Russia. That is why we are sharing n-ost's campaigns supporting journalists in Ukraine and Meduza's appeal to continue reporting in Russian about the war.
­
­
­
­

­
­

THE LOCATIONS OF THIS ISSUE

­

­
­
­
­

­

Photographers: Nikita Teryoshin, Maxim Dondyuk, Paweł Starzec, Jacob Ganslmaier, Natalia Kepesz, Evgeniy Maloletka, Ramin Mazur, Alexander Vasukovich, Rafał Siderski, Oksana Parafeniuk, Alexander Chekmenev, Marek Berezowski, Denis Sinyakov


Authors: Evgeny Feldman, Konstanty Gebert


Editorial team: Laura Naum and Petrică Mogoș (Kajet Journal), Mazurkiewicz Karolina and Magdalena Kicińska (Pismo Magazin), Stefan Günther and Pia Telebuh (n-ost) and Ramin Mazur.

Design: Philipp Blombach
Copy Editing: Ben Knight


­

­
­
­
­

­

If you like the publication, please follow us on the european images Instagram account!

This is the first edition of european images, a project by n-ost, in partnership with Kajet Journal (RO), AthensLive (GR) and Pismo (PL) supported by Allianz Kulturstiftung and the Foundation for Polish-German Cooperation.

Coordinated by n-ost, documentary photographers will meet once a month throughout the entire period of the project.

If you are a European photographer and want to join the meeting or provide images for the publication please write a short introduction of your work to europeanimages@n-ost.org.


­

­
­
­
­

­
­

­
­
­

­
­

­
­
­
­

­
­

­
­
­
­

­

initiated and coordinated

by n-ost

­

You've received this email because you are a member or a friend of n-ost, AthensLive, Kajet or Ramin or subscribed to european images

­
­