| | |
| --- | --- |
| | ­ |
| ­ | ­ |
­
­
Dear reader, Although our professions seem to define us more than anything else in this day and age, this particular type of self-identification is not new when one takes into account humankind's historical relationship with work. If the industrial revolution added a deceptive division between labour and personal life, work has become an even more fluid notion in the 21st century.

How do we, then, accurately portray this evershifting idea of work? First, by being aware of the inevitability of change. We are now told to work from anywhere, and that this is not only our new, post-COVID reality but also a more convenient one. As remote work begins to show its dehumanising sides, new images of work also appear every day. There have been ripple effects in digital innovation, where workers are transformed into modern production units: mere data on a spreadsheet in a world of insecurity.

A second important aspect of portraying work is to do justice to those professions wronged by history. That is, by reconsidering what society conceals: from the care worker who looks after our elderly to the perfectly camouflaged museum custodian who watches from afar. After all, when it comes to work (and workers) we need to revive and preserve a new form of human dignity: One that is equally fair, inclusive, and liberating.

­
Petrica, Laura (Kajet, RO), Karolina, Magdalena (Pismo, PL), Pia and Stefan (n-ost, DE) – this issue's editorial team


In Gmail the mail is often trimmed: Please click the link at the end of the mail to see the whole newsletter or click here to read it in your browser.
­
­
­
­

Top title image: Chest of a Polish coal miner from Upper Silesia. Michał Łuczak from Katowice for his series "Extraction" (2012–2013).


Bottom title image: A corridor in an Infineon plant in Dresden, where semiconductors are produced. Henrik Spohler (Laif) from Hamburg for his series "Global Soul" (2006).

­
­
­
Seeing
WORK

Single Images by Photographers
From all over Europe


­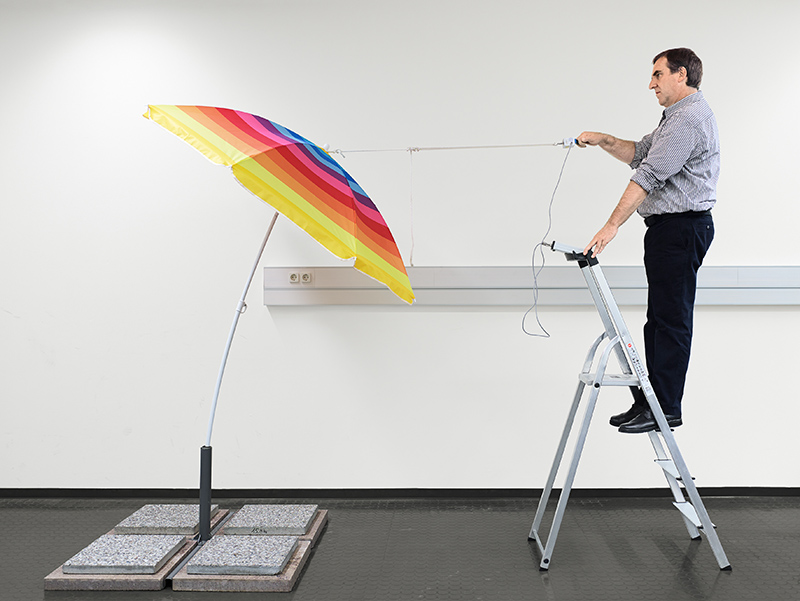 ­
A safety test "Norm 2 PFG 899" at the German testing institute TÜV Rheinland. Andreas Meichsner from Berlin for his series "The Beauty of Serious Work" (2011-2014).
­
Eastern European harvest workers, mainly from Romania, travel very early in the morning in this bus to work on fruit plantations in the small town of Sornzig between Leipzig and Dresden, despite the coronavirus crisis. Felix Adler from Leipzig took this image while working on a reportage about the conditions on the fruit harvest in Saxony (2020).
­
­
Zuzanna (name changed) is a care worker who has been caring for old and sick people in Germany for 14 years. Zuzanna herself is 64 years old. Thea Marie Klinger from Dresden for her series "Strong Hands" (2021).
­
­
Worker at a milk production plant in Belarus at a contest for the most beautiful and best milker in Maladzyechna, a city near Minsk. Siarhej Leskiec from Minsk for his series "Milkmaids of Belarus" (2016).
­
­
Jochen, a 71-year-old German and Mohamed, a 21-year-old refugee from Afghanistan, who worked as a sex worker (not their real names) sit in the Tiergarten park, Berlin. Though not gay, Mohamed entered into a relationship with Jochen, his regular customer, to make his situation as an illegal refugee bearable. Heba Khamis, a female photojournalist from Egypt who was almost two years in Germany, for her series "Black Birds" (2017–2019).
­
­
Phoebe is a freelance film p​roducer working in advertising. As productions ground to a halt due to the coronavirus she used her spare time to volunteer at the South London Food Bank Warehouse. Charlie Clift took this image for his series "Foodbank" while also volunteering at the foodbank (2020).
­
­
An attendant in the State Tretyakov Gallery in Moscow sitting in front of Petrov Vodkin's "Bathing of the Red Horse". Andy Freeberg for his series "Guardians" (2008–2009)
­
­
Exploring
HOME

A closer look at a
photographer's series
­
­
Nicht müde werden
(2020-2021)
At some point in our lives, each and every one of us will benefit from the service nurses provide. They are crucial to any society for adequate medical care. However, in Germany, over the last decades the working conditions of nurses have continually grown worse due to political and economic circumstances, despite the fact that it is one of the richest countries in the world.
The privatisation of hospitals is ongoing. Because of a change in the accounting settlement system, financial pressure dictates every decision. As a consequence, shifts are understaffed and the pressure on remaining nurses is enormous. They have to take care of more and more patients in less time, and are hardly able to meet their own standards. The capitalist system works against good nursing, which takes time and expertise.
It is a challenge to photograph nursing in a hospital, as the profession by necessity invades patients' private space. What can be shown in public to pay tribute to nurses' work, and yet considers patients' rights and dignity? As a result of this dilemma, in the media, nurses are often shown merely as a person pushing a bed down white corridors. The real contribution that nurses make to our society stays underpaid, unrecognised, and invisible, as all traditionally female care work often does.
"Nicht müde werden" ("Don't get tired") shines a light on the achievements of one of the largest occupational groups in Germany, which has been working at maximum capacity for too long.

­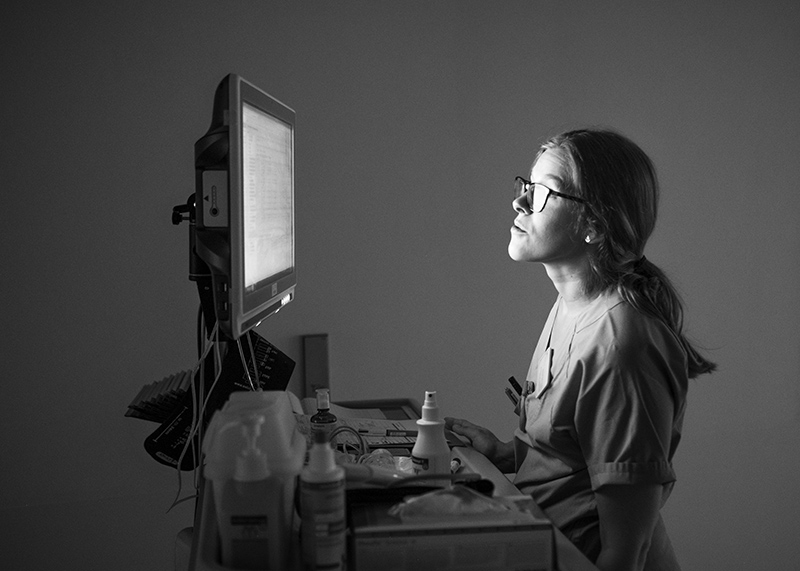 ­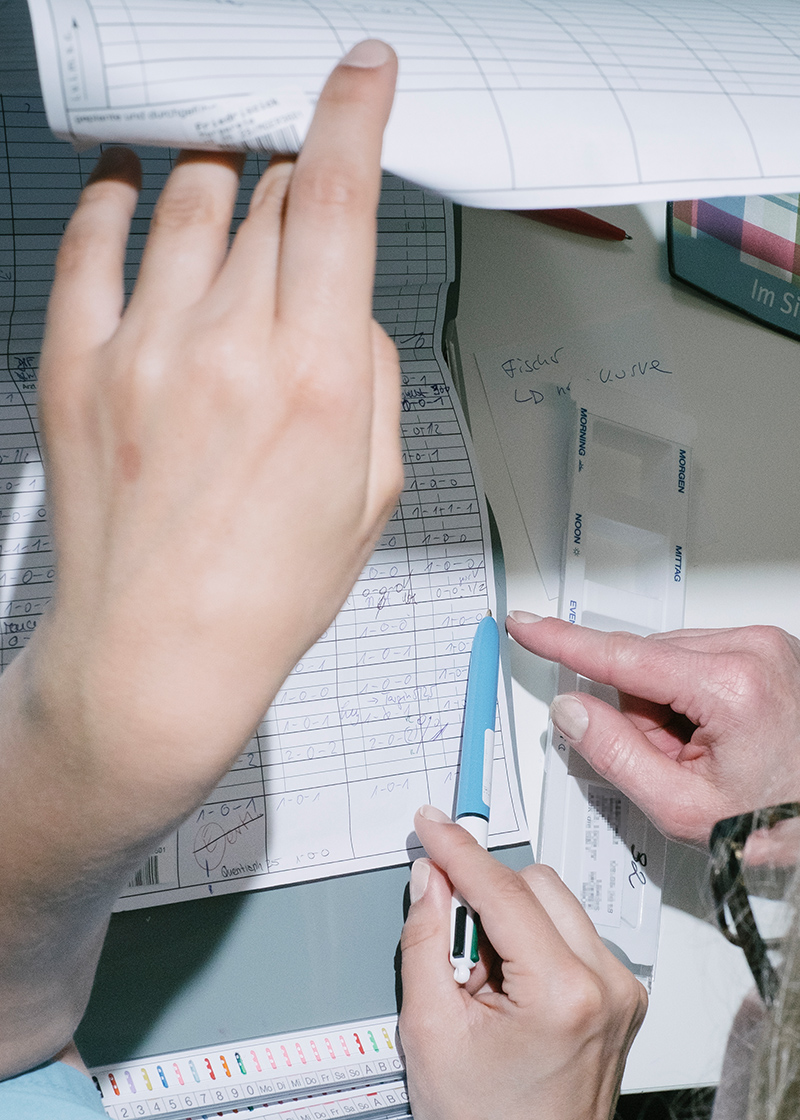 ­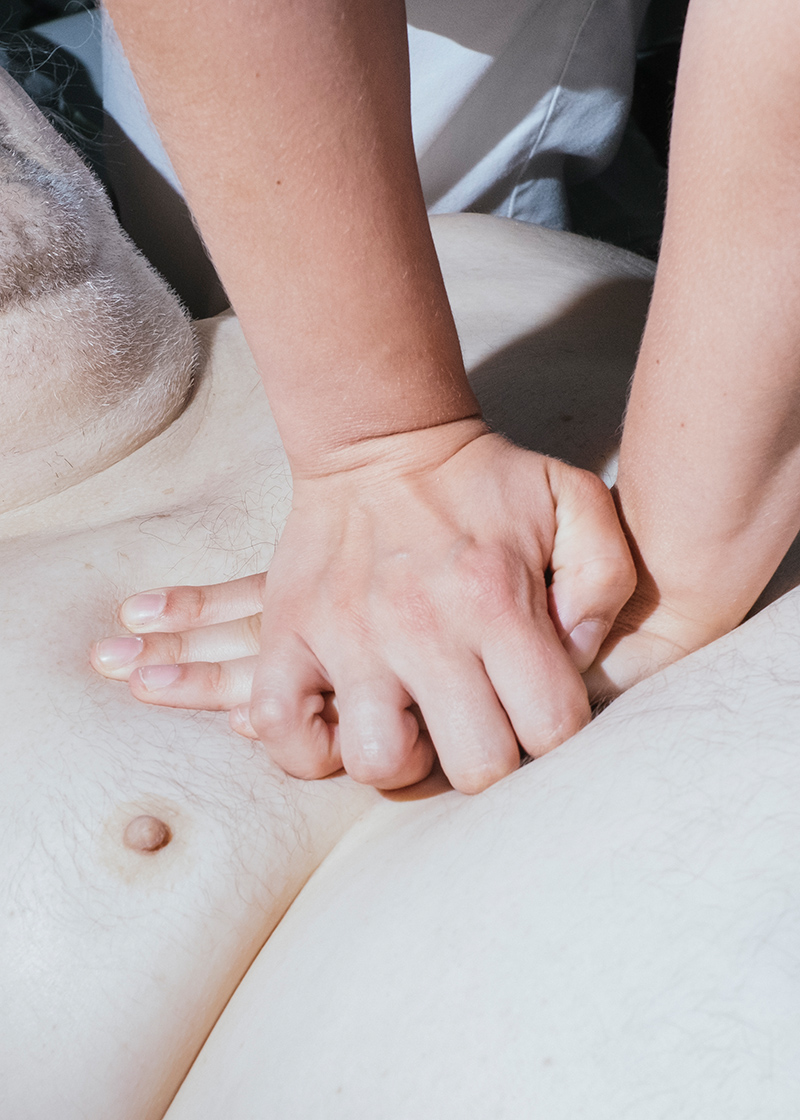 ­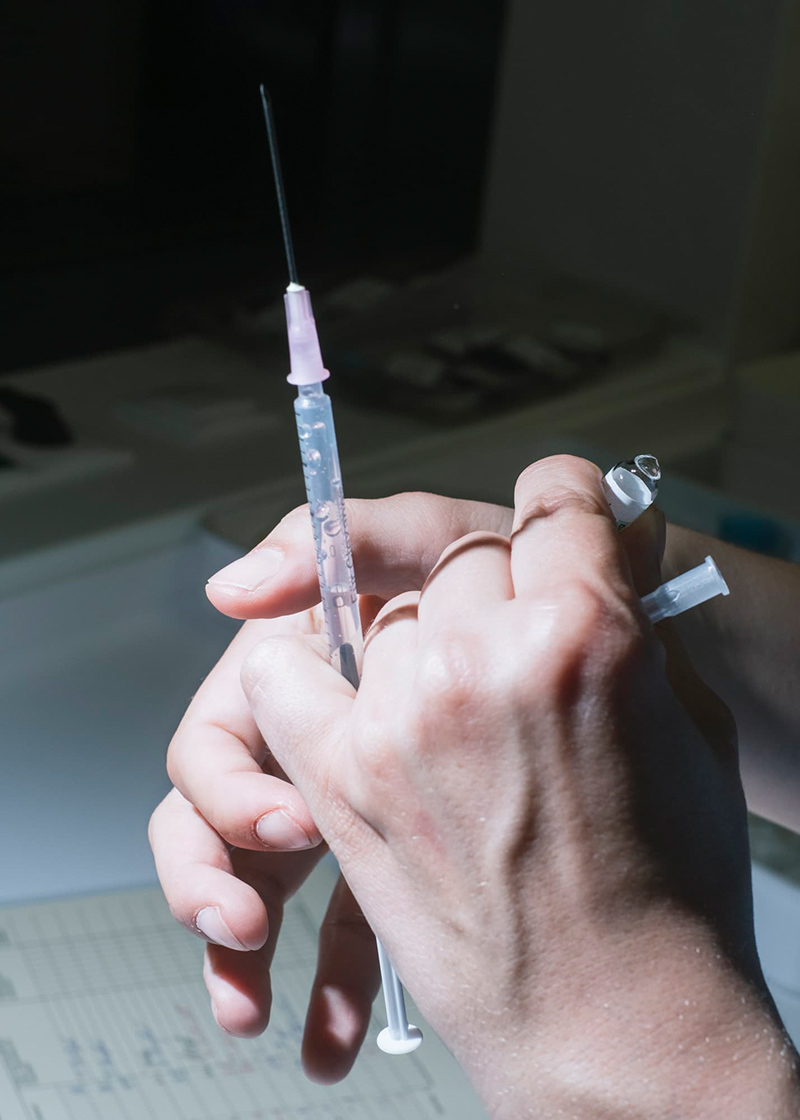 ­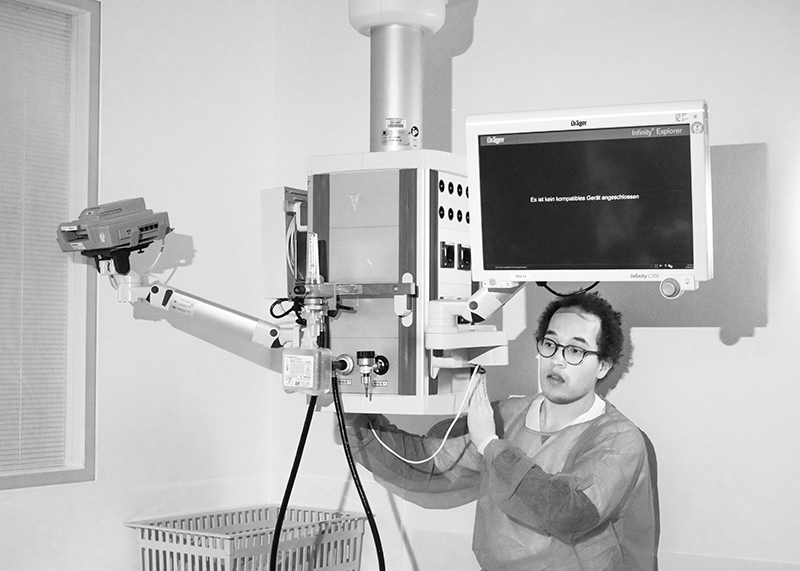 ­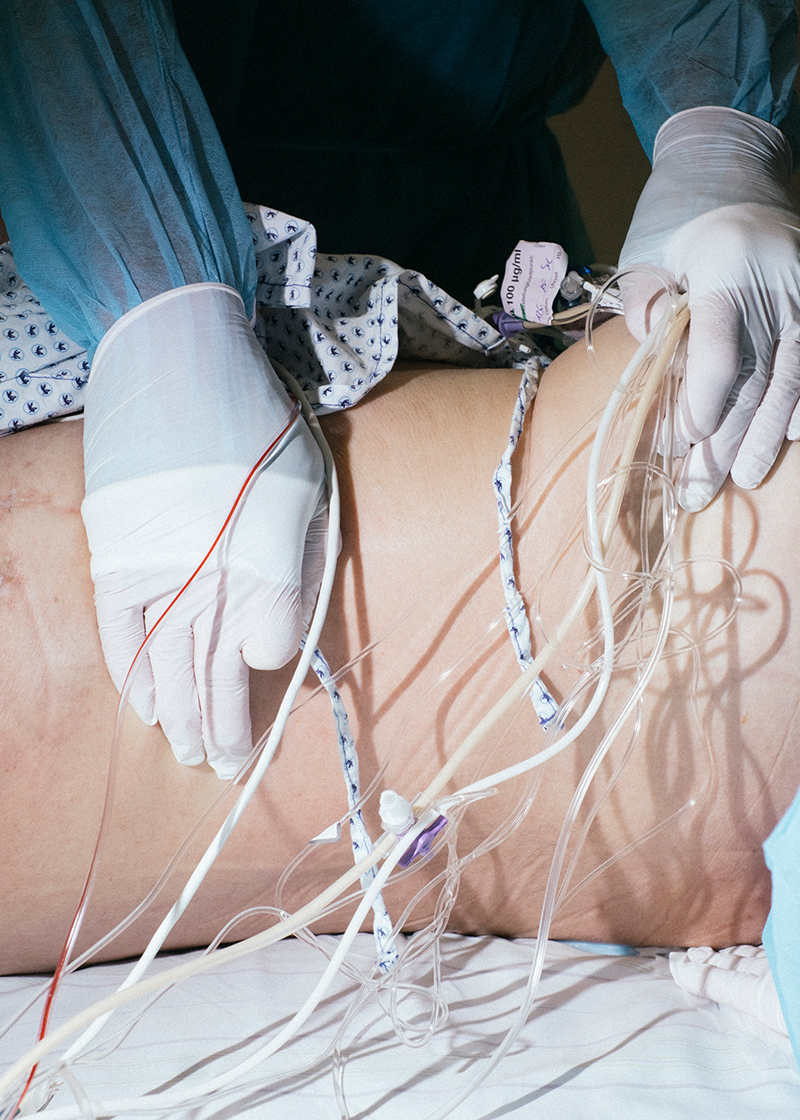 ­
­
Patricia Kühfuss is a German documentary photographer currently based in The Hague. She is interested in how visuals shape our perception of the world and how stereotypes can be challenged. Her central concern is to foster a constructive dialogue.
Reflecting
WORK


A critical observation of how
work is supposed to look


­
­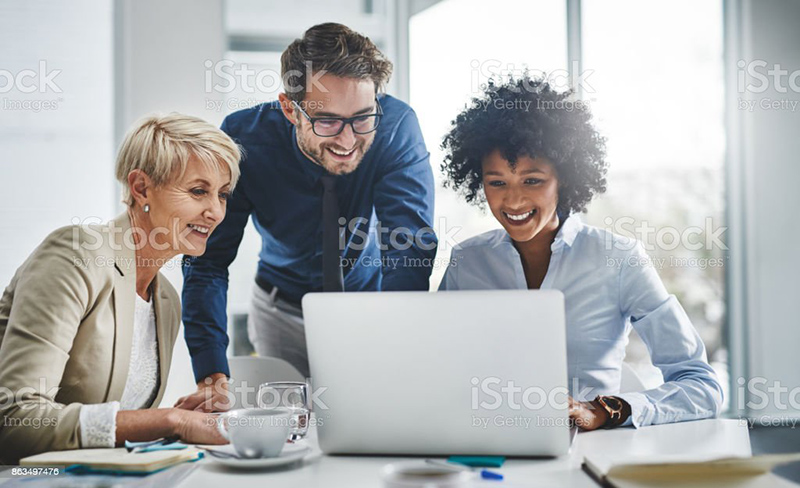 ­
­
How do people look at work? The photo people asked.
"Neat, cheerful, never flustered, and always superbly postured. With silver laptops in a luminous space, everyone is of a different race. Older people? There are one or two, but they look younger than interns, and don't have much to do. In the pandemic it was much the same, but in neat, cheerful boxes on a silver laptop screen."
Stock images tell us how "work" should look, more than work itself. They idealise the workplace, with a five-dollar face-filter for all corporate wrinkles. Yet despite how obvious the fiction is, it still takes hold. Incessantly, they whisper: stay at your desk just a couple hours longer, and you too could have superb posture...

Neal Gruer (b.1985) is a Scottish-Ghanaian writer and photographer, living in Bucharest, Romania. Before turning his attention to words and images (mostly about the playful and peculiar aspects of people and place), he lived a stock-image lifestyle as a lawyer in London.
­
­
­
Robot
WORK

An ode to automated error
­
­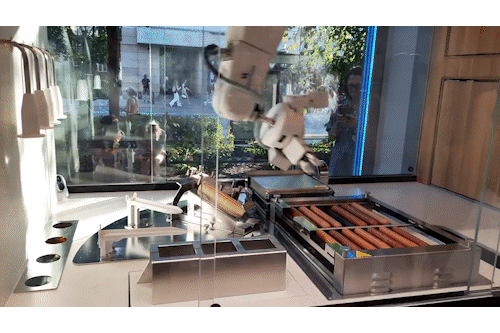 ­
Polish retailer Żabka introduced the country's first hot dog-making robot as part of their concept for autonomous stores. There is already a network of automated Żabka Nano outlets across the country, without cashiers, queues, and cash.

Watch the whole video of a hot dog robot blunder, filmed by a customer.
­
­
­
Reading
HOME

A short essay on technological futures, uneven geographies, and the value of labour


­
­
The future of work has many faces. Take TikTok content moderators working remotely in Morocco making less than 3$ an hour or a Ukrainian mother providing essential care services for an elderly couple in Germany. Both cases exemplify different faces of globalised, dispersed, and precarious labour and invite us to rethink our ideas of technological progress and the value of labour.
Mega trends such as digitalisation, datafication, and automation have been clustered under the umbrella term 'future of work.' Indeed, tech-solutionist dreams of globalised labour increasingly infiltrate all areas of work and life. Much focus has been given to the discursive binary of humans against smart machines, as exemplified in Shoshanna Zuboff's 1988 classic study In the Age of the Smart Machine: The Future of Work and Power. Are human beings mere appendices of machines? We live in a financialised society that is increasingly being mediated by digital infrastructures, information technologies, algorithms, and platforms. Neoliberal financialisation thrives specifically on the contingency of labour and its mounting precarity. See, for instance, the emergence of the 'gig economy.' Against the backdrop of imperatives of self-realisation and flexibility, people face more and more challenges of (digital) exclusion and a lack of security as they are pushed to diversify their portfolio through fragmented and piecemeal work, creating patchwork livelihoods. Consequently, the precarious individual emerges as the core anthropological (working) figure of today's just-in-time capitalism. This illustrates that technological progress—at work and beyond—is not synonymous with social progress. Moreover, it examines, contests, and redraws imaginaries and lived experiences on a daily basis.
­
"Are human beings mere appendices of machines?"
­
A different, yet deeply interwoven question has to be asked: What kind of labour is visible and valued, or invisible and devalued? Marxist-feminists showed as early as in the 1970s that reproductive labour (domestic labour or care) has been historically invisible and devalued, seen as a 'labour of love.' Take for instance the care sector: Who is taking care of whom? As modes of self-governing in contemporary societies are interwoven with an ever-present entrepreneurial spirit, these infiltrate the lives of women and/or migrant care workers in particular. Here the intersection of the feminisation of labour with a racialisation of labour becomes blatant. The globalisation of the labour market has led to a major crisis of social reproduction of populations around the world, therefore questions of reproduction must be interrogated on both the local and global level. The circulation or flow of care workers exemplify the growing need for care services in ageing societies. The recruiting of (migrant) women into the paid workforce and the low (and even diminishing) role of the state leads to a privatization of care—a process which feminist scholars term the global 'crisis of care.'
Vicky Kluzik trained as a political scientist. Following her studies, she worked for OECD Berlin Office on the 'future of work.' She is currently a research associate in the "Biotechnologies, Nature and Society" Research Group at the Faculty of Social Sciences at the Goethe University Frankfurt.

­
­
­

­
­

THE LOCATIONS OF THIS ISSUE

­

­
­
­
­

­

Photographers: Michał Łuczak, Henrik Spohler, Andreas Meichsner, Felix Adler, Thea Marie Klinger, Siarhej Leskiec, Heba Khamis, Charlie Clift, Andy Freeberg, Patricia Kühfuss


Text authors: Vicky Kluzik, Neal Gruer


Editorial team: Laura Naum and Petrică Mogoș (Kajet Journal), Karolina Mazurkiewicz, Magdalena Kicińska (Pismo Magazin), Stefan Günther and Pia Telebuh (n-ost) and Ramin Mazur.

Design: Philipp Blombach
Copy Editing: Ben Knight


­

­
­
­
­

­

If you like the publication, please follow us on the european images Instagram account!

This is the fifth edition of european images, a project by n-ost, in partnership with Kajet Journal (RO), AthensLive (GR) and Pismo (PL) supported by Allianz Kulturstiftung and the Foundation for Polish-German Cooperation.

Coordinated by n-ost, documentary photographers will meet weekly on Wednesday 6pm CEST throughout the entire period of the project.

If you are a European photographer and want to join the meeting or provide images for the publication please write a short introduction of your work to europeanimages@n-ost.org.


­

­
­
­
­

­
­

­
­
­

­
­

­
­
­
­

­
­

­
­
­
­

­

initiated and coordinated

by n-ost

­

You've received this email because you are a member or a friend of n-ost, AthensLive, Kajet or Ramin or subscribed to european images

­
­